IMPLEMENTASI NILAI PENDIDIKAN AKHLAK DALAM SURAH AL AN'AM AYAT 151 PADA ANAK USIA SEKOLAH DASAR
Keywords:
Education, Morals, Surat Al-An'am
Abstract
Education is a way of fostering children to achieve the process of maturity, both physically and spiritually. The main purpose of moral education is that humans are in the truth and always on the straight path, the path that has been outlined by God. This research is literature research or literature study. The research used is qualitative research. The type of research used is library research because the data studied are in the form of manuscripts, books, or magazines sourced from the library's treasures. The results obtained are that in Surah Al-Anam verse 151 there are values ​​of moral education which are also worthy of study along with the times. Because moral education is a process of appreciating a value that must be realized by every human being so that these values ​​and efforts can be embedded in their thoughts, attitudes, speech, and behavior related to God, humans and the surrounding environment. Human morality can be shaped by various internal or external influences. Internal influences are within humans while external include things that surround their lives. The stage of child development requires good information. With good character it will affect the development of the child in society.
References
Abu al-Fidā` Ismā'īl bin 'Umar bin Kathīr al-Qurasī al-Baṣrī. (1999). Tafsir al-Qur`an al-Aẓim. (t.tt: Dār Ṭayyibah lial-Nushuri wa al-Tauzī').
Abdul Majid, Dian Andayani. (2013). Pendidikan Karakter Perspektif Islam. (Bandung: PTRemaja Rosda Karya).
Adang Heriawan. (1988). Mengenal Manusia dan Pendidikan. (Yogyakarta: Liberty).
Aditya Firdaus, Rinda Fauzian. (2018). Pendidikan Akhlak Karimah Berbasis Kultur Pesantren, (Bandung: Alfabeta).
Ahmad Tantowi. (2022). Konsep pendidikan Akhlak dalam al-Qur'an surah al-an'am ayat 151 pada era globalisasi. Vol.5. No.1. (Februari).
Ahmad bin Musṭofa al-Marāghi. (1946). Tafsir al-Marāghi. (Mesir: Shirkah Maktabah).
Asmaran. (2002). Pengantar Studi Akhlak. (Jakarta: PT Raja Grafindo).
Halid Hanafi. (2018). Ilmu Pengetahuan Islam. (Yogyakarta: Deepublish).
Hamdani Hamid, Beni Ahmad Saebani. (2014). Pendidikan Karakter Perspektif Islam (Bandung: Pustaka Setia).
Jam'an, Pendidikan Akhlak dalam al-Qur`an Kajian Teori Dan Praktik. (2018). Ihya` al-'Arabiyah, Vol. 4, No. 1.
Majid, Abdul & Dian Andayani. (2013). Pendidikan Agama Islam Berbasis Kompetensi Konsep Dan Implementasi Kurikulum 2013. (Bandung: PT Remaja Rosdakarya).
M. Ichwanuddin. (2021). Nilai-Nilai Pendidikan Akhlak dalam Al Quran Surat Al-Hujurat dan Luqman : Kajian Tafsir Tarbawi, Oasis, Vol. 5, No. 2. (Februari).
Made Laut Mertha Jaya. (2020). Metode Penelitian Kuantitatif dan Kualitatif. (Yogyakarta: Anak Hebat Indonesia).
M. Nazir. (1985). Metode Penelitian. (Jakarta: Ghalia Indonesia).
Nurkholis. (2013). Pendidikan dalam Upaya Memajukan Teknologi, Jurnal Kependidikan, Vol. 1, No. 1, (November)
Ramayulis. (, 2008). Ilmu Pendidikan Islam. (Jakarta: Kalam Mulia).
Retno Widyastuti. (2010). Kebaikan Akhlak dan Budi Pekerti. (Semarang: Alprin).
Rinda Fauzian. (2019). Pengantar Pendidikan Islam. (Sukabumi: Farha Pustaka).
Samsul Munir Amin. (2016) Ilmu Akhlak. (Jakarta: Amzah).
Siti Lailatul Qadariyah. (2017). Akhlak dalam Perspektif al-Qur`an (Kajian terhadap Tafsir al-Maraghi), Jurnal alFath, Vol. 11, No. 2, (Juni-Juli).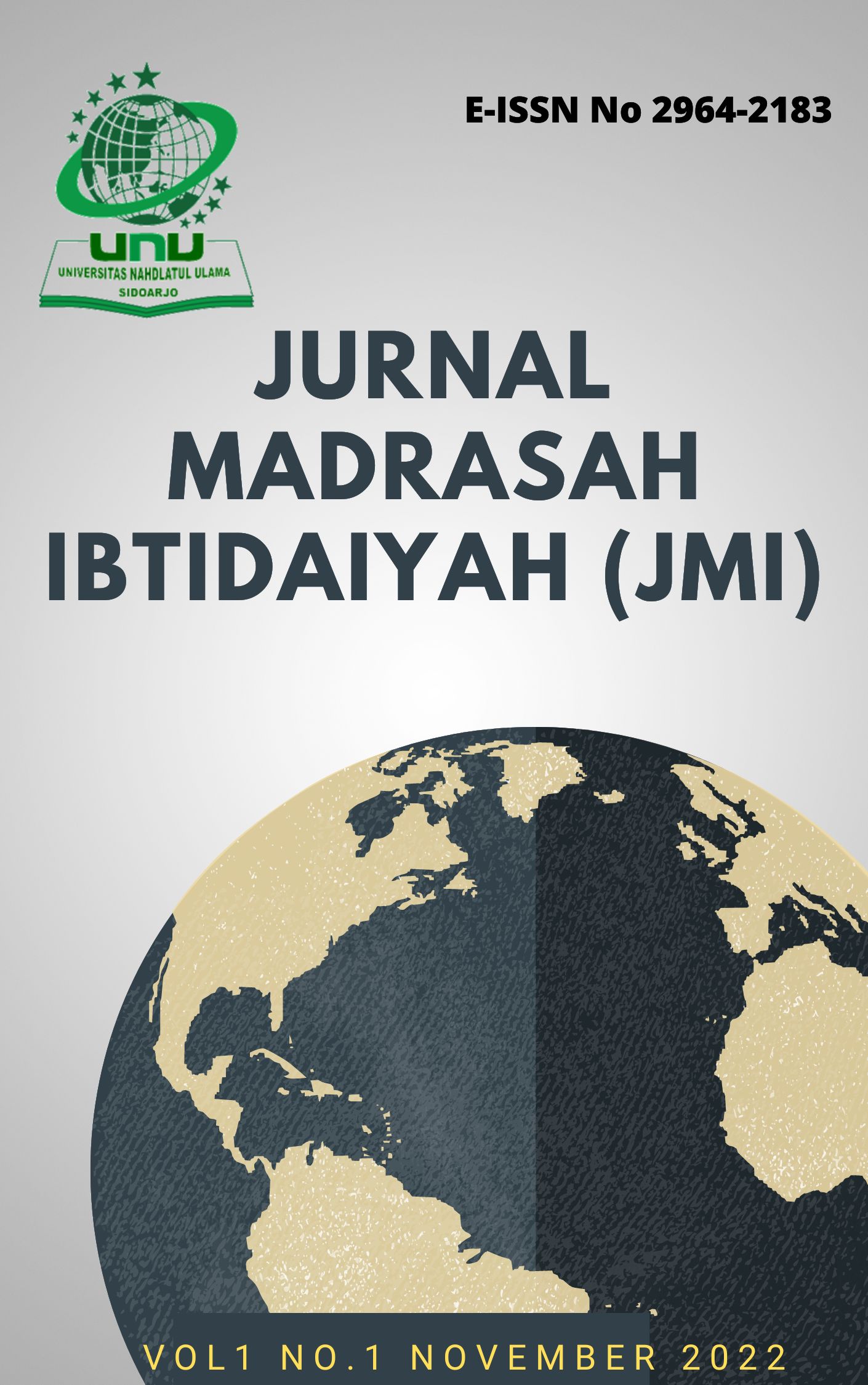 Downloads
How to Cite
Fithriyah, N. N. . (2022). IMPLEMENTASI NILAI PENDIDIKAN AKHLAK DALAM SURAH AL AN'AM AYAT 151 PADA ANAK USIA SEKOLAH DASAR. Jurnal Madrasah Ibtidaiyah, 1(01), 33–47. https://doi.org/10.55732/jmi.v1i01.715
License
Copyright (c) 2022 Jurnal Madrasah Ibtidaiyah
This work is licensed under a Creative Commons Attribution-ShareAlike 4.0 International License.
Jurnal Madrasah Ibtidaiyah memiliki hak penerbitan artikel, adapun isi konten artikel sepenuhnya menjadi tanggungjawab penulis