Design of Public Service Information Service Provider Pandaan District Office Using Chatbot
Keywords:
WhatsApp Chatbot, Dialogflow, Waterfall, Kantor Kecamatan Pandaan, Pelayanan Publik
Abstract
This study designs and builds a WhatsApp chatbot that is used as a provider of public service information services at the Pandaan District Office to increase the effectiveness and efficiency of community services. The tools used are dialogueflow which applies the NLP method and is built using the waterfall method. The chatbot accommodates information including addresses, contacts, websites, operating hours, community services which include requirements, fees, flow, and population application forms. The contribution to previous research is the implementation of dialogue flow to WhatsApp and the completeness of the information contained in the chatbot. From the tests that have been carried out using black box testing, that the chatbot can respond according to knowledge but there is a delay in sending the response caused by the API. Meanwhile, for testing the questionnaire test, 87% of the Office staff and 81% of the Pandaan District community. This shows that respondents strongly agree that this chatbot can become an effective and efficient provider of public service information services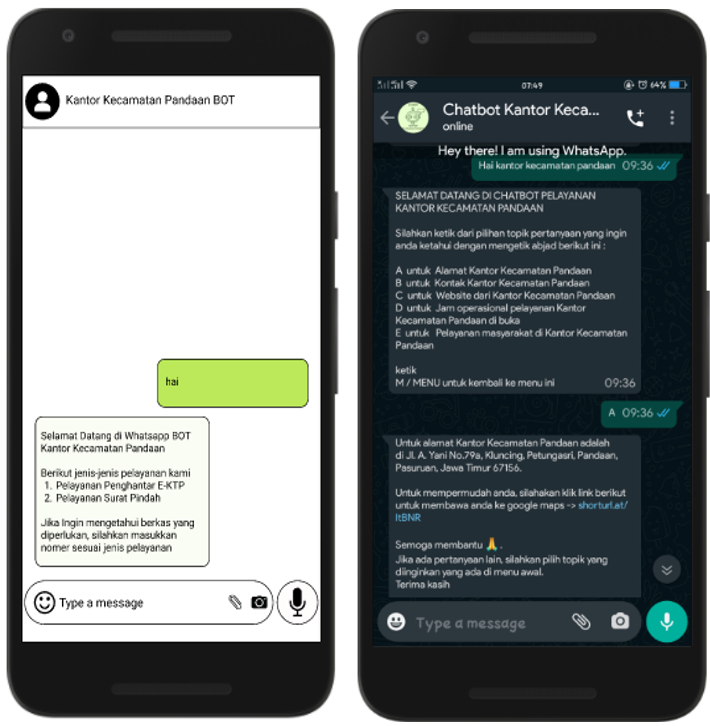 Downloads
License
Copyright (c) 2021 Journal of Computer Science and Visual Communication Design
This work is licensed under a Creative Commons Attribution-ShareAlike 4.0 International License.