Application of Virtual Tour Reality 360° Environmental Profile of Pandaan District Office Based on Android
Keywords:
Profil Kantor Kecamatan Pandaan, Public Service, Virtual Tour Reality 360, MDLC
Abstract
Public services are very important for people in various countries. In this case, it can be improved to achieve a better goal. At the Pandaan District office, people do not know the profile and location of the office buildings in the Pandaan District office. The purpose of this study is to create an application to introduce the profile of the Pandaan District office and the layout of the offices in the Pandaan District office environment. This application uses Virtual Tour Reality technology to create profiles of several offices in the Pandaan District office. This application was built using Unity 3D software and 360-degree panoramic photos using a 360-degree camera. There are links in this application, namely website links, maps, and Whatsapp for service information. The method used is a case study research method to examine in detail somewhere and using the MDLC (Multimedia Development Life Cycle) development method for combined media. Based on the black box ​​testing, this application runs has good results and for this application gets a feasibility percentage of 89.5%.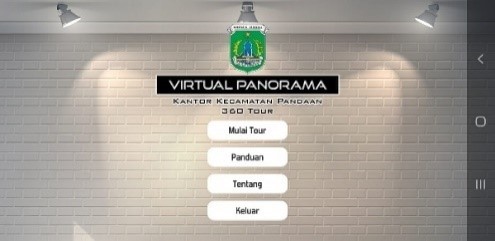 Downloads
License
Copyright (c) 2021 Journal of Computer Science and Visual Communication Design
This work is licensed under a Creative Commons Attribution-ShareAlike 4.0 International License.