Mobile-Based "W-Bot" Navigation Control Application on Robot Omni-Directional Wheels
Keywords:
Android, Robot Warehouse, Omni-Directional Wheels
Abstract
Indonesia, the application of robots in the warehouse sector is still very low. Even though in several countries, robot technology has been implemented to help the management of goods arrangement to be more efficient and accurate. So in this study will create a robot warehouse that has the main function to deliver and move goods from a starting point to the destination point. The robot uses omni-directional wheels to make it easier to navigate in 8 directions. Each wheel is driven by each stepper motor. Another feature is obstacle avoiding where there are 8 proximity sensors to avoid collisions with other robots or other objects around them. In addition to the main control system on robots, there are also control applications based on mobile / android. So the robot can be controlled automatically or manually through the W-Bot application. There are 10 navigation buttons to move the robot that is connected via Bluetooth communication. The system designed on this robot will make a major contribution to the world of warehousing, especially in Indonesia to help the management of goods arrangement more quickly, accurately, efficiently and energy saving.
Keywords— Android, Robot Warehouse, Omni-Directional Wheels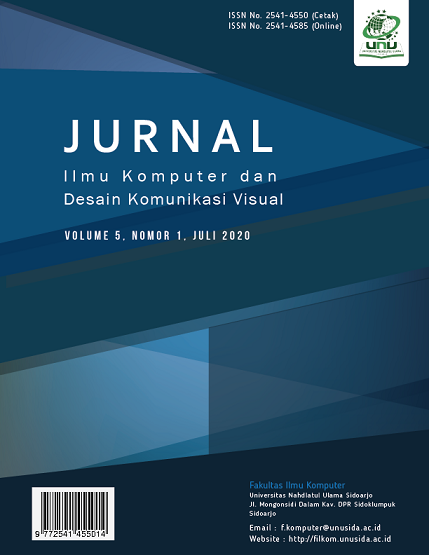 Downloads
License
Copyright (c) 2020 Jurnal Ilmu Komputer dan Desain Komunikasi Visual
This work is licensed under a Creative Commons Attribution-ShareAlike 4.0 International License.