PEMANFAATAN LIMBAH BATANG UBI KAYU DAN PLASTIK SEBAGAI BAHAN BAKU PEMBUATAN PAPAN PARTIKEL
Keywords:
Particle Board, Low Density Polyethylene (LDPE) Plastic, Cassava Powder
Abstract
Particle board consists of sheets of material made from wood chips or materials containing lignocellulose such as flakes and strands to be joined by using a binder and by providing various aids such as heat and press. The purpose of this research was to study the physical value (moisture content, thickness development, and density) and mechanical properties (elasticity and tensile strength) and its conformity to SNI. Particle board making in this study was a mixture of wood powder with plastic Low Density Polyethylene (LDPE) with a composition according to variable pressure pressed with 25 kg/cm2 with long pressing at the required temperature for an hour and added with 30 minutes of packing. The variables used were temperature and material composition. The making of particle board from cassava powder and plastic LDPE based on air content test, thickness development, and straight tensile strength were appropriate to SNI. The best results obtained in this study was the composition comparison of plastic LDPE: wood powder (80; 20) with a temperature of 160℃ with a moisture content of 1,2027%, thickness development of 9.217 %, density of 0,831 g/cm3, MOE of 21304,600 kgf/cm2, and perpendicular tensile strength of 31,094 kgf/cm2.  This particle board passed all tests and have the average value  and better characteristics compared to others.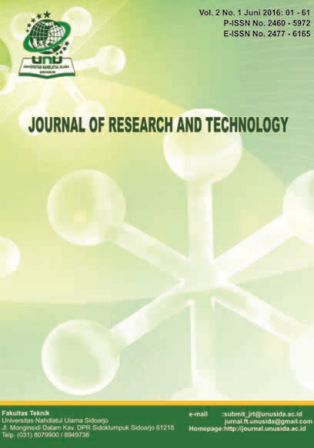 Downloads
How to Cite
Widodo, L. U. ., Pratama, F. M. E. ., & Prastya, S. M. . (2020). PEMANFAATAN LIMBAH BATANG UBI KAYU DAN PLASTIK SEBAGAI BAHAN BAKU PEMBUATAN PAPAN PARTIKEL. Journal of Research and Technology, 6(1), 145–154. Retrieved from https://journal.unusida.ac.id/index.php/jrt/article/view/150