PEMBUATAN ADSORBEN BERBAHAN BAKU TANAH LIAT DARI LIMBAH INDUSTRI PENCUCIAN PASIR SILIKA DENGAN PERBEDAAN KONSENTRASI HCl DAN WAKTU AKTIVASI
Keywords:
Adsorben, Clay, Hydrocloric Acid.
Abstract
Clay is silicate frame-based mineral praticle with a diameter of less than 4 micrometers, clay contains fine fused silica and aluminium. The development of clay as an alternative adsorbent is very possible because the clay has a large surface area, high porosity, and high abundance in nature and also relatively inexpensive compared to other adsorbents. The purpose of this study was to determine the ratio of SiO₂/Al₂O₃ content in activated clay. Clay was activated by using hydrochloric acid (HCl) with variable time and concentration of Hydrochloric Acid. Variable concentrations of hydrochloric acid used were 1N, 2N, 3N, 4N, 5N 1000 ml and time variables were 1 hour, 1.5 hours, 2 hours, 2.5 hours, and 3 hours. The best ratio results were shown at 5 N hydrochloric acid (HCl) concentration with 3 hours activation time of 12,26%.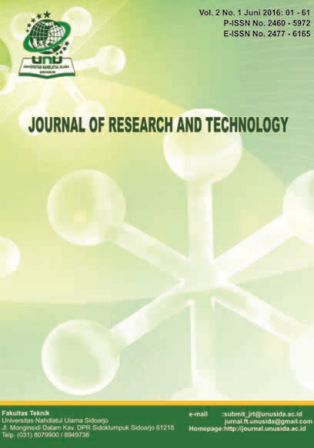 Downloads
How to Cite
Widodo, L. U. ., Najah, S. ., & Istiqomah, C. . (2020). PEMBUATAN ADSORBEN BERBAHAN BAKU TANAH LIAT DARI LIMBAH INDUSTRI PENCUCIAN PASIR SILIKA DENGAN PERBEDAAN KONSENTRASI HCl DAN WAKTU AKTIVASI. Journal of Research and Technology, 6(1), 10–15. Retrieved from https://journal.unusida.ac.id/index.php/jrt/article/view/134