Designing the Sekar Mulya UMKM Brand Identity as a Media for Identifying Product Identity and Image
Keywords:
Branding, Belimbing Wuluh, UMKM
Abstract
Sekar Mulya is an UMKM located in Mulyodadi Village, Sidoarjo which is produce processed food and beverages with starfruit as the main ingredient. The products produced by UMKM Sekar Mulya are syrup, fruit juice, sweets and jam. Identity has an important role in promotional and marketing activities. Identity limitations by UMKM Sekar Mulya will hinder the promotion and marketing process. Therefore, it is necessary to design a strong brand identity to identify and communicate the product image. The design process has stages from background, problem formulation, data collection, data analysis, design concept, visualization, and final design. The data collection method adopts qualitative research methods, namely observation, interviews, documentation, and literature study. Data analysis was performed using the SWOT theory. The result of this design is the logo and mascot as the main media. The formation of the logo was inspired by the abbreviation of the name Sekar Mulya, namely the letters "SM". The mascot was inspired by a Sidoarjo woman who wears a traditional kebaya which is complemented by a wutah rice motif. This design also creating a supporting media including stationery, merchandise, banners, packaging labels, and graphic standard manuals.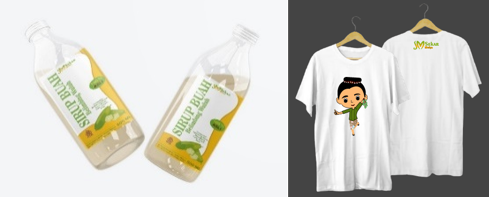 Downloads
License
Copyright (c) 2021 Journal of Computer Science and Visual Communication Design
This work is licensed under a Creative Commons Attribution-ShareAlike 4.0 International License.