PENURUNAN KADAR COD MENGGUNAKAN SARINGAN PASIR DUAL MEDIA PADA PENGOLAHAN AIR MINUM
Keywords:
Dual Media, COD Removal, Sand Filter.
Abstract
Allowance for COD content in raw water can use a dual media sand filter. Sand filters have various advantages, namely low-cost and environmentally friendly operational costs and are able to produce quality processed water that meets quality standards. This study uses a dual media sand filter with dimensions of sand and gravel depth of 40 cm and 20 cm respectively, running the reactor for 15 days (sampling every 2 days) with 14 days of acclimation. The purpose of this research is to obtain the optimum flow rate from the sand filter reactor in setting aside COD in raw water. The results showed a dual media sand filter reactor unit with a flow rate of 0.3 m3 / m2.hour has a higher efficiency in setting aside COD compared to a reactor with a flow rate of 0.2 m3 / m2.hours which is 52.3%, where the magnitude This removal efficiency is influenced by biological processes in the form of bacterial activity in the schmutzdecke layer and chemical processes in the form of adsorption.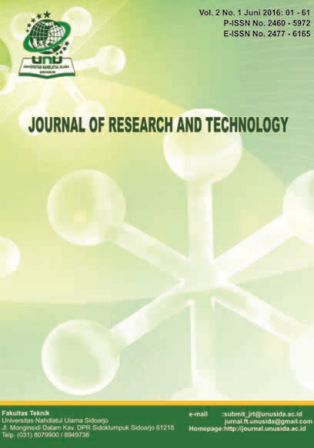 Downloads