ANALISIS BEBAN KERJA PERSONIL SORTIR PADA PROSES PRODUKSI SEDIAAN KAPSUL LUNAK DI PT X
Keywords:
Workload Analysis, Soft Capsules, Sorting Process, Full-Time Equivalent (FTE).
Abstract
Productivity is one of the important aspects that must be owned by a company to achieve the goals. Therefore, to improve productivity, it is necessary to analyze the workload of employees and improve the work procedures. Workload analysis carried out in this study aimed to determine the optimal workforce requirements of the sorting process in the soft capsule production unit at Pharmaceutical Company PT X. The observational method has been applied to this study. The data of this study were obtained by observing the process directly and conducting face-to-face interviews with the employees at the location of soft capsule production. Based on the workload analysis using a Full-Time Equivalent (FTE) method, it was found that a total value of 2.07 was obtained from the eleven activities in the sorting section. If the FTE was assessed for each person in the sorting section, then the FTE value for each personnel was 0.52. This value is in the underload category. Therefore, the number of personnel and the work procedures need to be adjusted.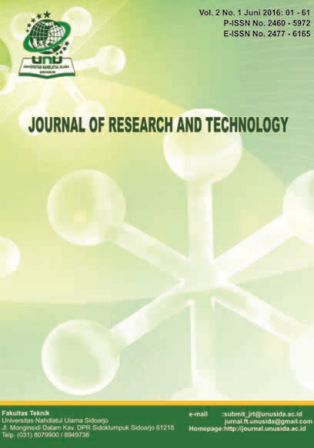 Downloads
How to Cite
Suryandari, M. ., Hatidja, S. A. ., & Avanti, C. . (2020). ANALISIS BEBAN KERJA PERSONIL SORTIR PADA PROSES PRODUKSI SEDIAAN KAPSUL LUNAK DI PT X. Journal of Research and Technology, 6(1), 155–161. Retrieved from https://journal.unusida.ac.id/index.php/jrt/article/view/151