KINETIKA REAKSI PEMBENTUKAN TRIKALSIUM PHOSPHATE (Ca3(PO4)2) DARI KALSIUM KARBONAT BERBAHAN BAKU CANGKANG KUPANG PUTIH
Keywords:
White Mussel Shell, Tricalcium Phosphate, Controling Step, ReactionOrde
Abstract
The development of the health sector to search alternatife material bone's repair is increasing. Bone is a natural composite containing 60% minerals, 30% matrix, and 10% water. The component of bone mineral is calcium phosphate. Tricalcium phosphate is the type of calcium phospate that used because it has chemical component's as like bone's component. In this study, white mussel shell was chosen as a source of calcium and H3PO4 as a solvent. The aim of this research was determining reaction kinetics of tricalcium phospate synthesis from white mussel shells. The research was started by dissolving 50 grams of white mussel shell in 1 L of H3PO4 3% at reaction time with variation 2, 4, 6, 8, 10 minutes and reaction temparature with variation 40, 50, 60, 70, 80oC and then filtered. The filtrate was analyzed for the content of phosphoric acid while the residue was calcined at 900oC for 5 hours to remove the water. The reaction rate increased with increasing time and temperature. The highest phosphate acid conversion was obtained at a temperature of 80 ° C, with a reaction time of 10 minutes is 90.92%. The controlling step that controlled tricalcium phosphate synthesis from white mussel shell followed pseudo first-order equation with the Arrhenius equation.The results of XRD analysis found that89%of Ca3(PO4)2was formed.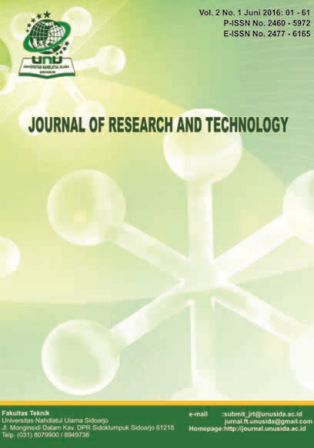 Downloads
How to Cite
Pujiastuti, C. ., Nofitasari, L. ., & Erfani, R. F. . (2020). KINETIKA REAKSI PEMBENTUKAN TRIKALSIUM PHOSPHATE (Ca3(PO4)2) DARI KALSIUM KARBONAT BERBAHAN BAKU CANGKANG KUPANG PUTIH. Journal of Research and Technology, 6(1), 137–144. Retrieved from https://journal.unusida.ac.id/index.php/jrt/article/view/149