PENGGUNAAN MEDIA BIOBALL DAN TANAMAN KAYU APU (Pistia stratiotes) SEBAGAI BIOFILTER AEROBIK PADA PENGOLAHAN LIMBAH CAIR RUMAH TANGGA
Keywords:
Aerobics, Biofilter, Household, Kayu Apu, Waste
Abstract
Household liquid waste, which is the residue from the activities of soapy water or bathing water, detergent water from washing clothes, faeces, washing water from cooking utensils containing oil in the settlement. This liquid waste problem needs to get serious attention, because it has complex characteristics and can disturb the health of the environment. One of the efforts to manage the environment is the processing of household wastewater through a series of physical and biological treatments, namely the aerobic biofilter process and using plant bioindicators, namely apu wood (Pistia stratiotes) which is able to absorb various heavy metals such as Fe, Zn, Cu, Cr, and Cd. Domestic wastewater used in this study was greywater, it was from kitchen activities. The purpose of this study was to determine the efficiency of reducing BOD, TSS, and fat oil in residual waste resulting from household activities by processing aerobic biofilter using bioball media and apu wood plants. The process of this research included the process of bacterial culture (seeding) for ± 2 (two) weeks and then proceeded by replacing new waste in the reactor for 5 (five) days at the biofilter reactor in which there was a bioball media and apu wood plants with downward and upward flow using a reactor made of glass with certain dimensions with a discharge of 0.35 ml/sec. The process results in a reduction efficiency of BOD of 70.51% from an initial BOD concentration of 300 mg/L to 88.49 mg/L. The efficiency of reducing TSS was 74.97% from the initial concentration of TSS 321 mg/L to 80.33 mg/L. In addition, the efficiency of reducing fat oil was 73.20% from the initial concentration of fatty oil 300.36 mg/L to 80.51 mg/L, so it can be explained that processing with bioball and apu wood plants can reduce the parameters of BOD, TSS, and fat oil, but the value was still above the standard quality of Minister of Environment Regulation No. 68/Menlhk/Setjen/Kum.1/8/2016.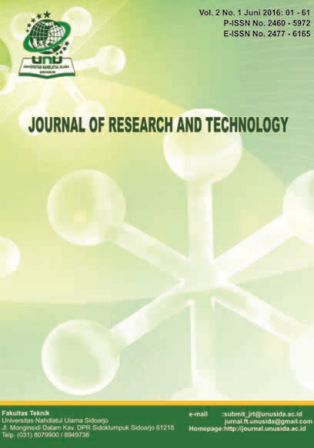 Downloads
How to Cite
Pramita, A. ., Prasetyanti, D. N. ., & Fauziah, D. N. . (2020). PENGGUNAAN MEDIA BIOBALL DAN TANAMAN KAYU APU (Pistia stratiotes) SEBAGAI BIOFILTER AEROBIK PADA PENGOLAHAN LIMBAH CAIR RUMAH TANGGA. Journal of Research and Technology, 6(1), 131–136. Retrieved from https://journal.unusida.ac.id/index.php/jrt/article/view/148