SIMULASI PENGARUH LAJU ALIR LARUTAN NIRA TERHADAP DISTRIBUSI TEMPERATUR PADA FALLING FILM EVAPORATOR
Keywords:
Cane Juice, Falling Film Evaporator, Simulation
Abstract
Cane juice is the main raw material in sugar factories. The processing of cane juice to produce the highest quality sugar must be through the proper evaporation process. If the evaporation temperature is too high, the cane juice can be damaged and this will affect the quality of sugar produced. The type of evaporator that is often used to reduce water content in food is falling film evaporator. This study obtained to determine the effect of the flow rate of cane juiceon the temperature distribution at the interface and wall. This research was conducted using Matlab Software and the Runge-Kutta Method. The research variables used were the flow rate of 154, 243, and 301 l/hr and the air flow rate of 4, 8 and 10 m3/hr. The results showed that the smaller flow rate of the solution, the smaller temperature of the solution at the interface with the same position. The temperature distribution on the wall has increased at the beginning of evaporator operation, but then decreased due to evaporation.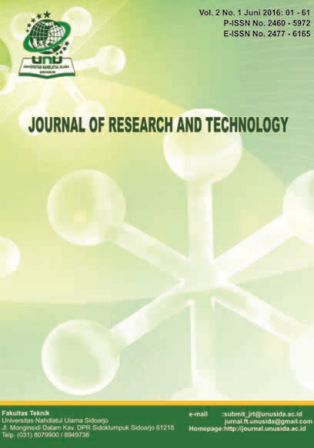 Downloads
How to Cite
Fitri, M. A. . (2020). SIMULASI PENGARUH LAJU ALIR LARUTAN NIRA TERHADAP DISTRIBUSI TEMPERATUR PADA FALLING FILM EVAPORATOR. Journal of Research and Technology, 6(1), 91–96. Retrieved from https://journal.unusida.ac.id/index.php/jrt/article/view/144