KUALITAS BISKUIT MP-ASI DARI TEPUNG KOMPOSIT KIMPUL-KACANG TUNGGAK DAN TEPUNG SAGU SELAMA PENYIMPANAN
Keywords:
Biscuits, Kimpul, Cowpea, Packaging, MP-ASI
Abstract
Kimpul can be used as various types of products to increase added value, one of that is biscuits. The advantages of biscuits include long-lasting, also easy to digest. Therefore biscuits can be made as complementary foods for ASI (MP-ASI). MP-ASI biscuits are commonly consumed by children aged 12-24 months. MP-ASI biscuits with the raw material of kimpul flour still need other ingredients to increase the protein content in order to meet the quality requirements, such as cowpea flour. To improve the texture to make it softer, it is used sago flour. Sago flour, which has a high starch content, also functions as an adhesive. This study aimed to determine the quality of the MP-ASI biscuit product of kimpul-cowpea composite flour and sago flour during storage. The research used a single factor RAK, namely the type of packaging (PE pouch, aluminum foil pouch, PE-aluminum foil pouch) and repeated three times. Observation during storage was done in every two weeks for six months. The parameters taken were physical characteristics, water content, Aw, FFA, TPC, and peroxide number. The results showed that during storage, there was a decrease in the quality of physical characteristics, increased water content, Aw, FFA, peroxide number, and TPC. Based on physical and chemical quality, the treatment that experienced the lowest quality decline was P1 (Aluminum Foil).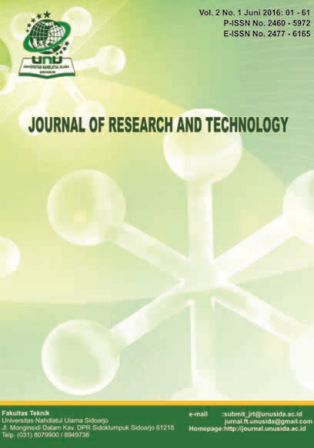 Downloads
How to Cite
Puspitasari, D. ., Rejeki, F. S. ., Wedowati, E. R. ., Koesriwulandari, & Kadir, A. . (2020). KUALITAS BISKUIT MP-ASI DARI TEPUNG KOMPOSIT KIMPUL-KACANG TUNGGAK DAN TEPUNG SAGU SELAMA PENYIMPANAN. Journal of Research and Technology, 6(1), 70–80. Retrieved from https://journal.unusida.ac.id/index.php/jrt/article/view/142