STRATEGI GREEN PRODUCT GUNA MENINGKATKAN KINERJA USAHA KECIL MENENGAH BERBASIS RAMAH LINGKUNGAN
Keywords:
Critical Success Factor, Green Product, Inovation Strategy, SMEs
Abstract
Small and Medium Enterprises (SME) product innovation in order to support the concept of green products must be able to convince consumers. Product innovations which have been made that are not in accordance with the tastes of consumers, so the goods are less attractive to consumers. SMEs have difficulties in adjusting products that are environmentally friendly and acceptable to consumers. The high cost in innovating also results in SMEs who hesitate to modify the product. This study aimed to determine, describe, and analyze the effect of green products on the performance of SMEs in Sidoarjo. The first stage was to map green product criterias that affect the performance of environmentally-based SMEs, then analyse the effect of green products on the performance of environmentally-based SMEs. The method used in determining this effect was Partial Least Square (PLS). From the results of data processing, there were factors that influence the performance of environmentally friendly SMEs, namely the green product factor. Then a critical success factor analysis was carried out on the green product factor to determine the strategies that must be taken by environmentally friendly SMEs. The results of the analysis obtained strategy recommendations in improving the performance of SMEs were the strategy of selecting raw materials, choosing energy sources, using the amount of raw materials, and choosing product packaging materials. The strategy was in the context of developing environmentally friendly SMEs so they can improve SME competitiveness.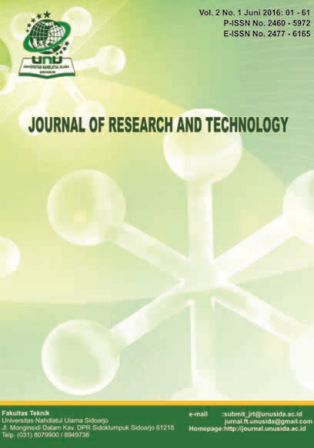 Downloads
How to Cite
Usada, U. ., & Murni, A. W. . (2020). STRATEGI GREEN PRODUCT GUNA MENINGKATKAN KINERJA USAHA KECIL MENENGAH BERBASIS RAMAH LINGKUNGAN. Journal of Research and Technology, 6(1), 33–40. Retrieved from https://journal.unusida.ac.id/index.php/jrt/article/view/138