PILOT PLANT PROSES PRODUKSI BIODIESEL MENGGUNAKAN KATALIS BASA HOMOGEN
Keywords:
Waste Cooking Oil, Base Catalyst, Methyl Ester, Pilot Plant
Abstract
Methyl ester is an alkyl ester compound which is produced through an transesterification process between triglycerides and methanol with the aid of alkaline catalysts into alkyl esters and glycerol. Methyl ester is produced through a transesterification reaction. The method used in the production of methyl ester was Pilot Plant with batch process. Base catalyst variations were carried out at 0,1%w/w;0,3%w/w;0,5%w/w;0,7%w/w; dan 0,9%w/w. The productions of methyl ester consisted of pre-treatment, transesterification reaction, and post-treatment. Quality test of methyl ester consists of density and kinematic viscosity. Based on the result of the research, the overall quality of methyl ester were appropriate according to the Indonesian National Standard on Biodiesel. The highest density value was 889,6kg/m3 at 0,5%w/w base catalyst concentration and the lowest value was 862,7kg/m3 at 0,3%w/w base catalyst concentration. The highest value of kinematic viscosity contained in base catalyst variation of 0.1%w/w was at 5.80cSt and the lowest value of 0.7%w/w was at 3,76cSt.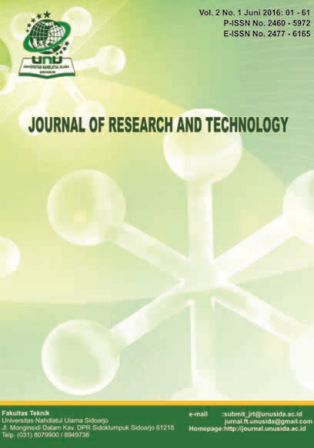 Downloads
How to Cite
Amalia, R. ., Prasetya, H. E. G. ., Nurlaili, E. S. ., & Ulum, A. B. . (2020). PILOT PLANT PROSES PRODUKSI BIODIESEL MENGGUNAKAN KATALIS BASA HOMOGEN. Journal of Research and Technology, 6(1), 16–22. Retrieved from https://journal.unusida.ac.id/index.php/jrt/article/view/135