PENGENDALIAN PENYAKIT KARAT PURU PADA BIBIT SENGON (Falcataria moluccana) DENGAN PRIMING BENIH DAN FUNGISIDA NABATI DAUN MINDI (Melia azedarach)
Keywords:
Fungicide, Gall Rust, Mindi, Sengon
Abstract
Production of sengon continuously improved to meet the needs of the timber industry, but increased production sengon still face the problem of that disease gall rust fungus Uromycladiumtepperianum Sacc. that is causing inhibited growth of sengon, so it needs to be eco-friendly controlled by spraying fungicide from mindi leaves which contains active ingredient azadirachtin and margocyn as antimicroorganisms. The research was conducted by using Factorial Completely Randomized Design with 2 factors and 3 replications. Priming factors (A) consisted of A0 (control), A1 (immersion), and A2 (humidification). Fungicide factors (B) consisted of B0 (control), B1 (100 grams of Mindi leaves / 2L water), B2 (150 grams of mindi leaves/2L water), B3 (200 grams of mindi leaves/2L of water), and B4 (250 grams of mindi leaves/2L water). Fungicide was given every 7 days after inoculation with 7 times of applications. The results of the research proved that the treatment A2B3 (priming with humidification and fungicides 200 grams of mindi leaves/2L of water) was an effective treatment in reducing the intensity of gall rust disease on sengon with 8,36% of intensity.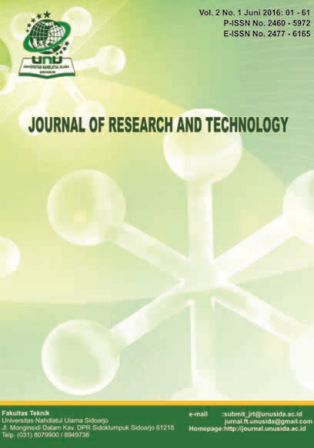 Downloads
How to Cite
Azzahro, F. ., Haryani, T. S. ., & Bramasto, Y. . (2020). PENGENDALIAN PENYAKIT KARAT PURU PADA BIBIT SENGON (Falcataria moluccana) DENGAN PRIMING BENIH DAN FUNGISIDA NABATI DAUN MINDI (Melia azedarach). Journal of Research and Technology, 6(1), 1–9. Retrieved from https://journal.unusida.ac.id/index.php/jrt/article/view/133