Augmented Reality-Based Digital Filters as Restrictions on Plastic Consumption Public Service Advertisements
Keywords:
Digital Filter, Augmented Reality, Public Service Advertisement, Plastic
Abstract
 High levels of plastic use can result in an increasing amount of plastic waste piling up. The production of plastic waste in Indonesia has produced up to 3.2 million tons of plastic waste, and as much as 1.2 million tons of waste has been dumped into the sea. This is because waste management in Indonesia is still relatively poor. Seeing the condition and increasing consumption of plastic, it is necessary to educate the public about the importance of limiting the use of plastic. A social campaign in the form of a public service advertisement is needed so that people can think and act wisely before using plastic. This study aims to design an augmented reality-based Instagram filter that contains messages and ways to reduce plastic consumption. The filter design can be completed thanks to the Double Diamond method, which focuses on problem analysis as a basis for making solutions. The results of this study indicate that the filter design was successfully published and successfully reached the target audience with the acquisition of a questionnaire test score of 86%, which indicates that the filter is very good. Thus, filters can be used as effective public service advertisements in providing information regarding restrictions on plastic consumption.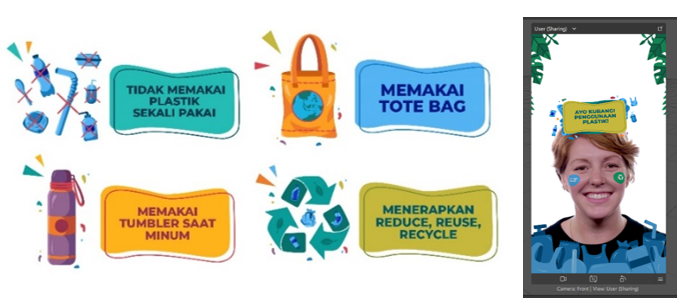 Downloads
License
Copyright (c) 2022 Journal of Computer Science and Visual Communication Design
This work is licensed under a Creative Commons Attribution-ShareAlike 4.0 International License.