Marketing Communication in Increasing Sales in Media Ilmu Publishers of Sidoarjo
Keywords:
Marketing Communications, Marketing Mix, Publishing
Abstract
Marketing communication is a company tool to inform, persuade, and remind consumers about the products and brands being sold. Media Ilmu Sidoarjo Publisher has a market segment in the form of books for Islamic schools/madrasas. The booming of Islamic books including books for Islamic schools/madrasas in the community creates new challenges for Sidoarjo Science Media Publishers. The purpose of this study is to describe marketing communications in increasing sales at Media Ilmu Sidoarjo Publisher, by implementing the marketing mix strategy / 4P which refers to the four Ps, namely product, price, promotion, and place. This study uses a qualitative descriptive research method, with data collection techniques by interviews, observation, and triangulation. Based on the results of the study, it was concluded: (i) a product strategy to maintain quality by implementing very strict quality control, (ii) a pricing strategy to attract consumers to buy with a policy of discount strategies and selling price discrimination, (iii) a strategy distribution using a zerolevel and two-level channel strategy. While the marketing channel (intermediary) uses a sales force (sales force) which is a direct marketing channel service and through wholesalers (distributors), (iv) the promotion strategy refers to the promotion mix which consists of advertising, personal selling, sales promotion, publicity and relations public. With these four strategies, Media Ilmu Sidoarjo Publisher can continue to exist and increase its sales
References
Ardianto, Elvinaro. (2010). Metodologi Penelitian Untuk PR (Kualitatif dan Kuantitatif). Bandung: Simbiosa Rekatama Media
Arief. 2007. Pemasaran Jasa dan Kualitas Pelayanan. Malang: Bayumedia Publishing
Dharmesta., Basu Swastha. (2002). Azas-azas Marketing. Yogyakarta: Liberty
Jung, J., Chan-Olmsted, S., Park, B., & Kim, Y. (2012). Factors Affecting e-Book Reader Awareness, Interest, and Intention to use. New Media & Society, 14(2), 204–224. https://doi.org/10.1177/1461444811410407
Keller, K. L. (1993). Conceptualizing, Measuring, and Managing Customer-Based Brand Equity. Journal of Marketing, 57(1), doi:10.2307/1252054.
Kotler, Philip. And Gary Amstrong. (2001). Principle Of Marketing, 11th Edition. New York: Prentice (Prenhallindo).
https://www.republika.co.id/tag/syahruddin-el-fikri diakses pada tanggal 23/10/2022
Kotler, Philip. (2002). Manajemen Pemasaran, Edisi Millenium. Jakarta: Prenhallindo
Lamb, Charles. W., Jr., Joseph F. Hair Jr., dan Carl McDaniel. (2001). Pemasaran. Alih Bahasa oleh Octarevia, Edisi Kelima. Jakarta: Salemba Empat.
Moleong, Lexi J. (2006). Metodologi Penelitian Kualitatif, Edisi Revisi. Bandung: PT Remaja Rosdakarya.
Panuju, Redi., Dr. (2019). Komunikasi Pemasaran: Pemasaran Sebagai Gejala Komunikasi. Komunikasi Sebagai Strategi Pemasaran. Edisi pertama. Jakarta : Penerbit Kencana.
Panuju, Redi., Dr. (2018). Pengantar Studi (Ilmu) Komunikasi. Komunikasi sebagai Kegiatan Komunikasi sebagai Ilmu. Prenada Media Group (Divisi Kencana). Jakarta.
Pandrianto, N., & Sukendro, G. G. (2018). Analisis Strategi Pesan Content Marketing untuk Mempertahankan Brand Engagement. Jurnal Komunikasi, 2, 167–176. Retrieved from https://journal.untar.ac.id/index.php/kom unikasi/article/view/2619
Pawito. (2007). Penelitian Komunikasi Kualitatif. Yogyakarta: LKIS Pelangi Aksara
Rakhmat, Jalaludin. (2004). Metode Penelitian Komunikasi, Edisi Revisi. Bandung: Rajagrafindo Persada
Rangkuti, Freddy. (2009). Strategi Promosi yang Kreatif dan Analisis Kasus Integrated Marketing Communication. Jakarta: PT. Gramedia Pustaka Utama
Sellahvarzi, S., Mirabi, V. R., & Iran Nejad Parizi, M. (2014). A Study on the Effects of Marketing Communication Using Integrated Marketing Communication. Management Science Letters, 4(7), 1415–1420. https://doi.org/10.5267/j.msl.2014.6.027
Soemanagara, Rd. (2008). Strategic Marketing Communications, Konsep Strategis dan Terapan. Bandung: Alfabeta
Sugiyono. (2005). Memahami Penelitian Kualitatif. Bandung: Alfabeta
Zaharuddin, Harmaizar. (2006). Menggali Potensi Wirausaha. Bekasi: CV Dian Anugerah Perkasa.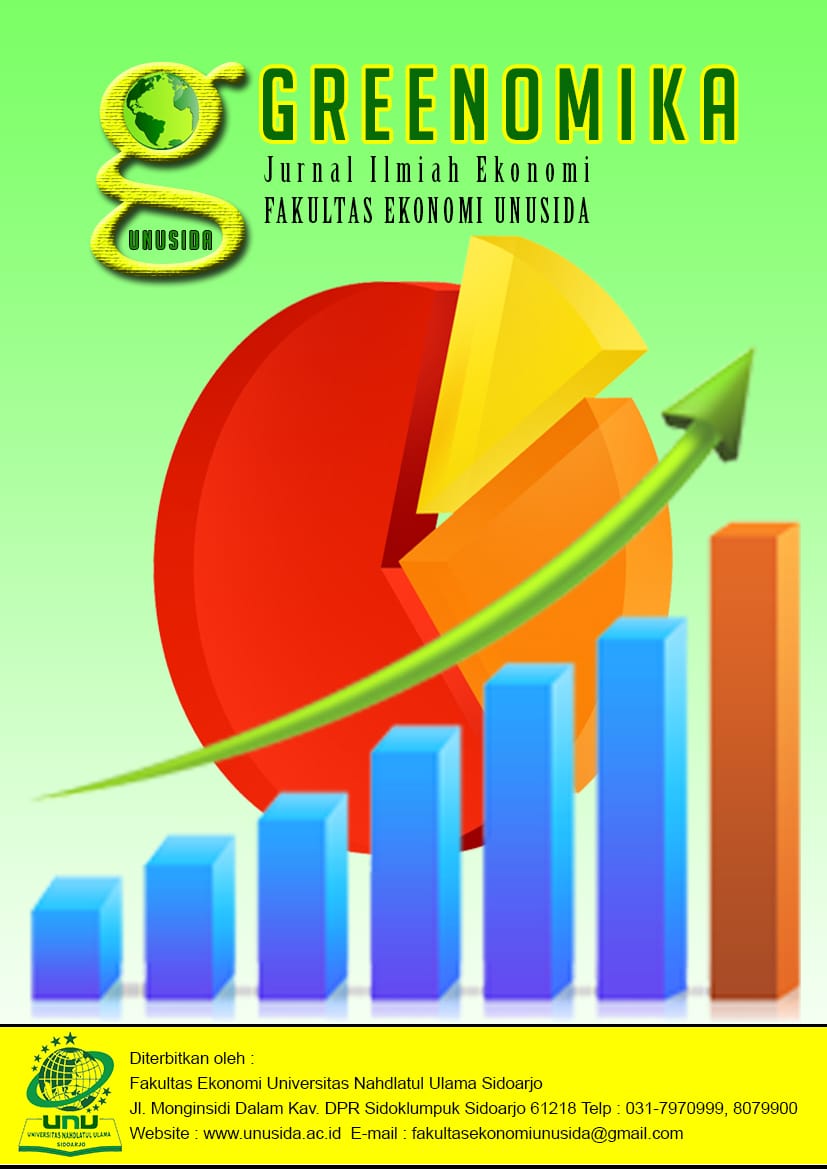 Downloads
How to Cite
Afifah Dian Rahmanita, & Panuju, R. (2023). Marketing Communication in Increasing Sales in Media Ilmu Publishers of Sidoarjo. GREENOMIKA, 5(1), 61–67. https://doi.org/10.55732/unu.gnk.2022.05.1.6
License
Copyright (c) 2023 Afifah Dian Rahmanita, Redi Panuju
This work is licensed under a Creative Commons Attribution 4.0 International License.
Authors who publish with this journal agree to the following terms:
Authors retain copyright and grant the journal right of first publication with the work simultaneously licensed under a Creative Commons Attribution License that allows others to share the work with an acknowledgement of the work's authorship and initial publication in this journal.
Authors are able to enter into separate, additional contractual arrangements for the non-exclusive distribution of the journal's published version of the work (e.g., post it to an institutional repository or publish it in a book), with an acknowledgement of its initial publication in this journal.
Authors are permitted and encouraged to post their work online (e.g., in institutional repositories or on their website) prior to and during the submission process, as it can lead to productive exchanges, as well as earlier and greater citation of published work (See the Effect of Open Access).