THE INFLUENCE OF MOTIVATION AND LEADERSHIP STYLE ON EMPLOYEE PERFORMANCE (CASE STUDY OF RENDANG KARANGASEM HEALTH CENTER)
Keywords:
Motivation, Leadership, Employee Performance
Abstract
This study aims to obtain a tested qualitative explanation of the influence of motivation and leadership style on employee performance at the Rendang Karangasem Health Center. The research design used in this study is a qualitative research design. The type of data used is primary data and collected by in-depth interview method. The subjects of this study were all employees of the Rendang Karangasem Health Center, totaling 32 people, so this research was included in the population research category. Motivation and Leadership style have a positive influence and help the performance of Rendering Health Center employees to be better.
References
Indrawan, M. I. (2019). Pengaruh etika kerja, pengalaman kerja dan budaya kerja terhadap prestasi kerja pegawai kecamatan binjai selatan. Jurnal Ilmiah Abdi Ilmu, 10(2), 1851-1857.
Adha, R. N., Qomariah, N., & Hafidzi, A. H. (2019). Pengaruh motivasi kerja, lingkungan kerja, budaya kerja terhadap kinerja pegawai dinas sosial kabupaten Jember. Jurnal Penelitian IPTEKS, 4(1), 47-62.
Ali, H., Sastrodiharjo, I., & Saputra, F. (2022). Pengukuran Organizational Citizenship Behavior: Beban Kerja, Budaya Kerja dan Motivasi (Studi Literature Review). Jurnal Ilmu Multidisplin, 1(1), 83-93.
Yudistira, D. S., & Susanti, F. (2019). Pengaruh Motivasi Kerja Dan Budaya Kerja Terhadap Kinerja Pegawai Dinas Pemberdayaan Masyarakat Dan Desa, Pengendalian Penduduk Dan Keluarga Berencana Kabupaten Pesisir Selatan.
Suprihanto, J. (2018). Manajemen. UGM PRESS.
Syam, R. A. (2020). Perbandingan Penerapan Fungsi Manajemen Puskesmas Pada Puskesmas Terakreditasi dengan Puskesmas yang Belum Terkareditasi di Kota Makassar Tahun 2020 (Doctoral dissertation, Universitas Hasanuddin).
Maruapey, G. (2022). Literature Review: Implementasi Sistem Informasi Manajemen Puskesmas Dalam Menunjang Pelayanan Rekam Medis Di Puskesmas. Jurnal Medika Hutama, 3(02 Januari), 2310-2318.
Putri, N. K. A. A., Sujana, I. W., & Novarini, N. N. A. (2021). Pengaruh Konflik Peran Ganda, Lingkungan Kerja, Dan Stres Kerja Terhadap Kinerja Tenaga Medis Dan Paramedis Wanita Pada Puskesmas Rendang Karangasem. VALUES, 2(3).
Pratiwi, N. P., Untari, E. K., & Robiyanto, R. (2020). Hubungan Persepsi Dengan Kualitas Hidup Pasien Hipertensi Lanjut Usia di RSUD Sultan Syarif Mohamad Alkadrie Pontianak. Jurnal Manajemen Dan Pelayanan Farmasi (Journal of Management and Pharmacy Practice), 10(2), 118-125.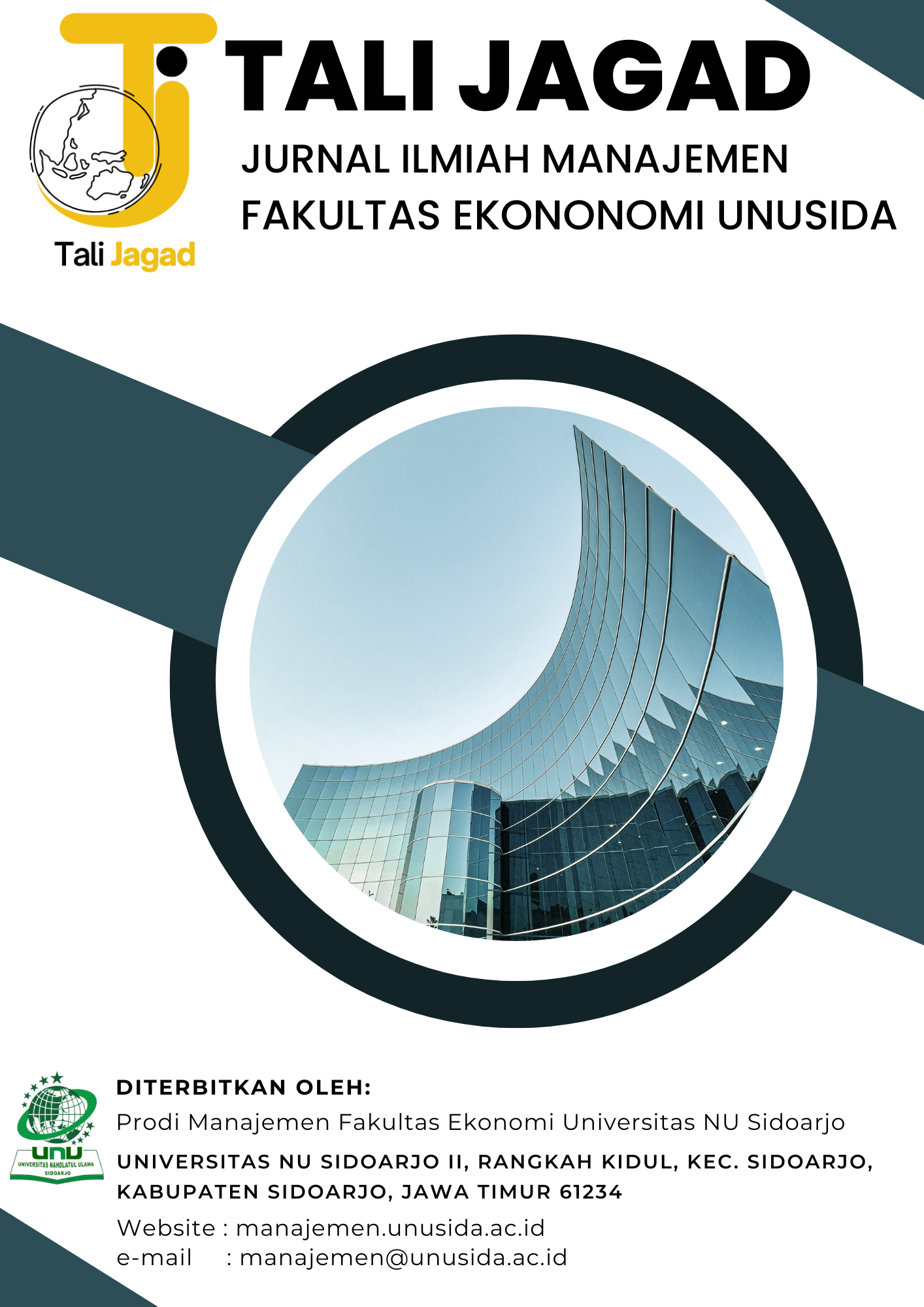 Downloads
How to Cite
I Gusti Agung Istri Ratih Mahacakri Laksmi, ratih mahacakri, & Sudiartini, N. W. A. . (2023). THE INFLUENCE OF MOTIVATION AND LEADERSHIP STYLE ON EMPLOYEE PERFORMANCE (CASE STUDY OF RENDANG KARANGASEM HEALTH CENTER). TALI JAGAD JOURNAL, 1(1), 9–15. Retrieved from https://journal.unusida.ac.id/index.php/tali-jagad/article/view/843