PENGGUNAAN MEDIA PERMAINAN EDUKATIF ULAR TANGGA UNTUK MENINGKATKAN HASIL BELAJAR MATEMATIKA MATERI BANGUN RUANG KELAS V MIN 2 MOJOKERTO
Keywords:
Snakes and Ladders Game, Math Learning Results
Abstract
The research in this thesis is motivated by several obstacles in the mathematics learning process, including: (1) Students feel bored because learning is more centered on the teacher while students tend to be passive (2) It is easy to forget to remember material because the delivery method is still conventional, namely lectures. and question and answer (3) The media used does not attract students' attention because the teacher only relies on LKS books. Classroom Action Research (CAR) was carried out at MIN 2 Mojokerto, with the object of research being class V students. The approach used in this study was a quantitative descriptive approach with the type of Classroom Action Research. The stages of action research are carried out in 4 stages, namely: 1).Planning, 2).Implementation, 3).Observation, and 4).Reflection. While the data collection using observation techniques, tests and documentation. The results showed that learning by using snakes and ladders game media can improve learning outcomes of mathematics learning materials for class V MIN 2 Mojokerto. The increase in student learning outcomes can be seen in the test results between the pre-cycle, cycle I and cycle II. The percentage increase in learning outcomes in the pre-cycle was 32% with an average of 58.96, then became 56% with an average of 58.20 in the first cycle and increased to 84% with an average of 76.60 in the second cycle.
References
Agustina, Winarti. 2020. Media Pembelajaran Jumping Frog (Untuk Meningkatkan Pemahaman Konsep Makhluk Hidup Bagi anak Usia Dini). Tasikmalaya: Edu Publiser
Arsyad, Azhar. 2011. Media Pembelajaran. Jakarta: PT. Raja Grafindo Persada Cahyo, Agus N. 2011. Game Khusus Penyeimbang Otak Kanan dan Kiri Anak.
Yogyakarta: Flashbook
Dimyati dan Mudjiono. 2013. Belajar Dan Pembelajaran. Jakarta: Rineka Cipta Kurniawan, Deni. 2014. Pembelajaran Terpadu Tematik (Teori, Praktik, dan
Penilaian). Bandung: Alfabeta Hamzah dan Nina Lamatenggo. 2011.
Teknologi Komunikasi & Informasi Pembelajaran. Jakarta: PT. Bumi Aksara
Mujib, Fathul dan Nailur Rahmawati. 2011. Metode Permainan-permainan Edukatif dalam Belajar Bahasa Arab. Yogyakarta: Diva Press
Nurjatmika, Yusep. 2012. Ragam Aktivitas Harian untuk TK. Yogyakarta: Diva Pres Suhendra, Ade. 2019. Implementasi Kurikulum 2013 Dalam Pembelajaran SD/MI: Teori dan Aplikasi di Sekolah Dasar/Madrasah Ibtidaiyah (SD/MI). Jakarta: Kencana
Purwanto. 2011. Evaluasi Hasil Belajar. Yogyakarta: Pustaka Pelajar
Susanto, Ahmad. 2016. Teori Belajar dan Pembeajaran di Sekolah Dasar.
Jakarta: Prenadamedia Group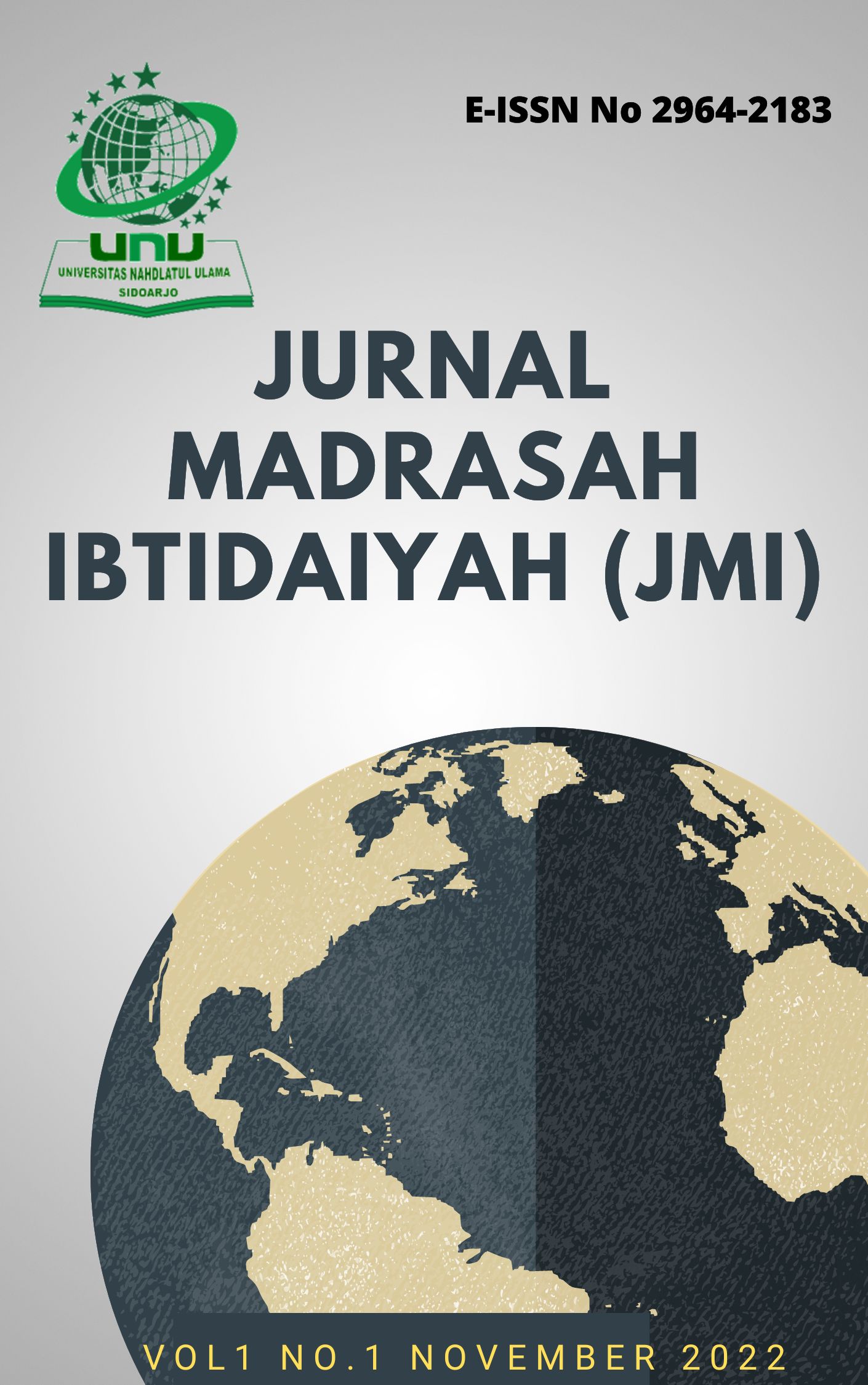 Downloads
How to Cite
Nirwana, R. (2022). PENGGUNAAN MEDIA PERMAINAN EDUKATIF ULAR TANGGA UNTUK MENINGKATKAN HASIL BELAJAR MATEMATIKA MATERI BANGUN RUANG KELAS V MIN 2 MOJOKERTO. Jurnal Madrasah Ibtidaiyah, 1(01), 48–64. https://doi.org/10.55732/jmi.v1i01.716
License
Copyright (c) 2022 Jurnal Madrasah Ibtidaiyah
This work is licensed under a Creative Commons Attribution-ShareAlike 4.0 International License.
Jurnal Madrasah Ibtidaiyah memiliki hak penerbitan artikel, adapun isi konten artikel sepenuhnya menjadi tanggungjawab penulis