PENGARUH BETA TERHADAP RETURN SAHAM DEFENSIF DAN AGRESIF GUNA MEMBANTU INVESTOR DALAM KEPUTUSAN INVESTASI
Keywords:
Defensive Stocks, Aggressive Stocks, Regression Stocks, Beta Stocks
Abstract
The capital market is a place for someone to invest in financial assets, one of which is equity instruments (stocks). Investment activities are very useful to get the maximum return, but with appropriate and acceptable risk. Stocks in this study are divided into defensive and aggressive stocks which are classified according to the level of risk. This risk must be considered by investors before investing. The parameter associated with systematic risk is called beta. The objects of research in this paper are 20 stocks consisting of ANTM, BBCA, BKSL, CPIN, GGRM, ICBP, KLBF, TLKM, PTBA, UNVR, ADHI, ADRO, AKRA, ASII, BBKP, BRPT, BMRI, CTRA, EXCL, and WIKA. The research method used is regression analysis to determine the beta value of stocks to be classified as defensive or aggressive stocks. At the end of the study, the effect of stock beta on return has an effect of 61.9%. While the other 38.1% are influenced by factors outside the independent variables.
References
Abdullah, M. (2015). Metodologi Penelitian Kuantitatif. Yogyakarta: Aswaja Pressindo.
Anwar, C. (2020). Pengaruh Posisi Keuangan, Laba Rugi, Perubahan Ekuitas dan Arus Kas terhadap Return Saham pada Perusahaan Sektor Agriculture yang tercatat di BEI Periode 2017-2019. Greenomika, 2(2), 122–129.
Effendy, M., & Pamungkas, A. D. (2018). Analisis Beta Saham Harian terhadap Imbal Saham Harian Sebuah Studi Kasus Saham-Saham LQ45 pada Periode Februari – Juli 2015. Jurnal Ilmiah Manajemen Kesatuan, 6(1), 33–42. https://doi.org/10.37641/jimkes.v6i1.34
Efni, Y. (2009). Pengaruh Suku Bunga Deposito, SBI, Kurs dan Inflasi terhadap Harga Saham Perusahaan Real Estate dan Property di BER. Jurnal Ekonomi, 17(1), 1–12. https://doi.org/http://dx.doi.org/10.31258
Fahmi, I. (2012). Manajemen Investasi: Teori dan Soal Jawab. Jakarta: Salemba Empat.
Gozila, A. (2015). Pengaruh Risk Aversion, Brand Trust, dan Brand Affect terhadap Brand Loyalty Gadget Merek Apple di Surabaya. Jurnal Ilmiah Mahasiswa Universitas Surabaya, 4(1), 1–16.
Hartono, J. (2010). Teori Portofolio dan Analisis Investasi. Yogyakarta: BPFE.
Jonathan, D. (2017). Faktor-faktor yang Mempengaruhi Return Aggressive Stock dan Defensive Stock (Studi Kasus pada Emiten Pembentuk Indeks Kompas 100). Skripsi. Universitas Sumatera Utara.
Megawati. (2018). Pengaruh Beta Saham dan Faktor Fundamental Keuangan Terhadap Harga Saham Syariah (Studi Empiris Jakarta Islamic Index di Bursa Efek Indonesia Tahun 2012-2016). Thesis. Universitas Islam Negeri Alauddin Makassar.
Mustaqim, M. (2021). Pengaruh Kinerja Keuangan Terhadap Harga Saham di Musim Pandemi. Greenomika, 3(1), 15–21. Diambil dari https://journal.unusida.ac.id/index.php/gnk/
Pardiansyah, E. (2017). Investasi dalam Perspektif Ekonomi Islam: Pendekatan Teoritis dan Empiris. Economica: Jurnal Ekonomi Islam, 8(2), 337–373. https://doi.org/10.21580/economica.2017.8.2.1920
Sugiarto, A. (2011). Analisa Pengaruh Beta, Size Perusahaan, DER Dan PBV Ratio terhadap Return Saham. Jurnal Dinamika Akuntansi, 3(1), 8–14. https://doi.org/10.15294/jda.v3i1.1939
Tania, A. L. (2019). Aplikasi Single Index Model dalam Pembentukan Portofolio Optimal Saham LQ45 pada Bursa Efek Indonesia. FINANSIA: Jurnal Akuntansi dan Perbankan Syariah, 2(1), 47–68. https://doi.org/10.32332/finansia.v2i01.1502
Widoatmodjo, S. (2009). Pasar Modal Indonesia Pengantar & Studi Kasus. Bogor: Ghalia Indonesia.
Yulia, Y. (2016). Analisis Pengaruh Rasio Likuiditas terhadap Return Saham (Studi pada Perusahaan Indeks LQ45 yang Terdaftar di Bursa Efek Indonesia). Jurnal Khatulistiwa Informatika, 4(2), 192–204. https://doi.org/10.31294/jki.v4i2.1315.g1074
Zubir, Z. (2011). Manajemen Portofolio: Penerapannya dalam Investasi Saham. Jakarta: Salemba Empat.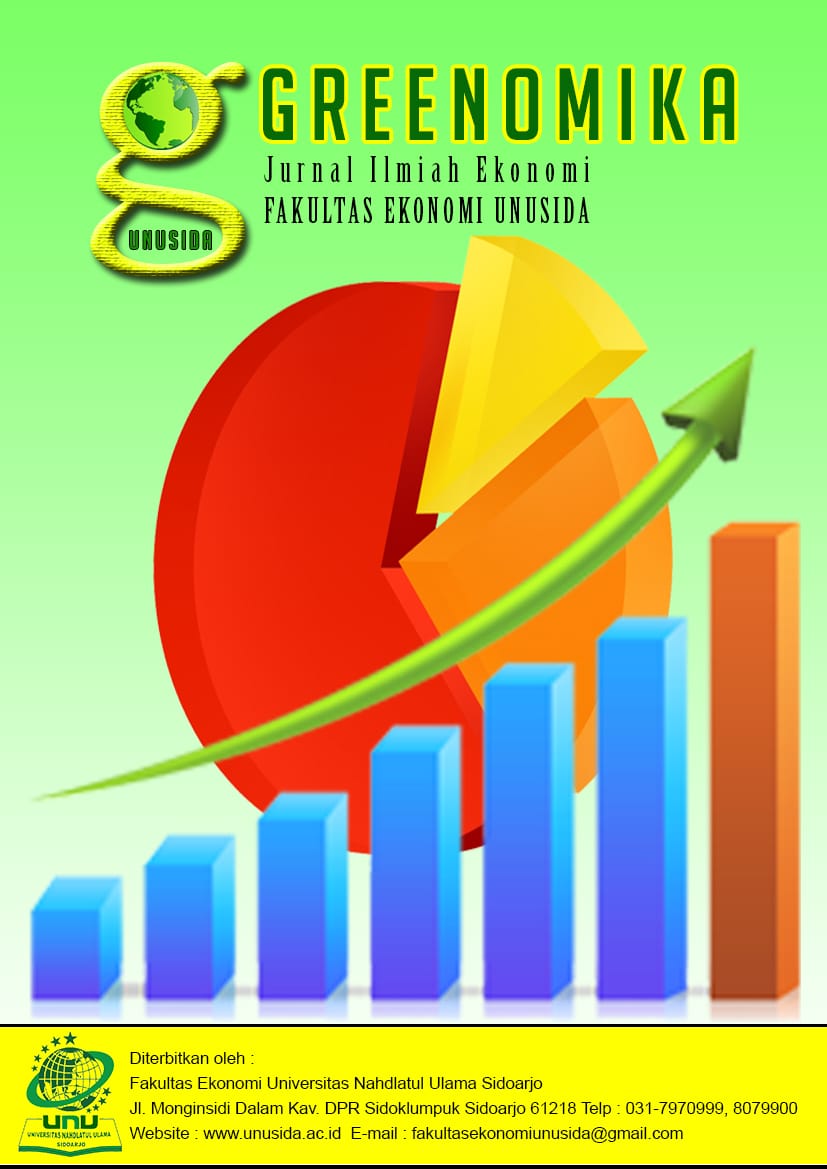 Downloads
How to Cite
Mulya Arga Retha, H. ., & Budiarti, R. . (2021). PENGARUH BETA TERHADAP RETURN SAHAM DEFENSIF DAN AGRESIF GUNA MEMBANTU INVESTOR DALAM KEPUTUSAN INVESTASI. GREENOMIKA, 3(2), 49–55. https://doi.org/10.55732/unu.gnk.2021.03.2.1
License
Copyright (c) 2021 GREENOMIKA
This work is licensed under a Creative Commons Attribution 4.0 International License.
Authors who publish with this journal agree to the following terms:
Authors retain copyright and grant the journal right of first publication with the work simultaneously licensed under a Creative Commons Attribution License that allows others to share the work with an acknowledgement of the work's authorship and initial publication in this journal.
Authors are able to enter into separate, additional contractual arrangements for the non-exclusive distribution of the journal's published version of the work (e.g., post it to an institutional repository or publish it in a book), with an acknowledgement of its initial publication in this journal.
Authors are permitted and encouraged to post their work online (e.g., in institutional repositories or on their website) prior to and during the submission process, as it can lead to productive exchanges, as well as earlier and greater citation of published work (See the Effect of Open Access).