Rebranding UMKM Desa Watugolong: Meningkatkan Brand Awareness dari UMKM Keripik Gadung
Keywords:
Brand awareness, rebranding, Keripik gadung, Pengabdian Masyarakat, UMKM, Pemasaran
Abstract
Peran UMKM sangat signifikan terhadap perekonomian Indonesia, baik dari sisi jumlah unit usaha, penyerapan tenaga kerja, maupun kontribusi dalam produk domestik bruto (PDB). Untuk mengembangkan usaha, UMKM tak lepas dari bagaimana mem-branding produk dengan efektif. Desa Watugolong merupakan desa yang memiliki tingkat brand awareness yang rendah terkait branding UMKM keripik gadung. Pengabdian masyarakat ini bertujuan untuk meningkatkan brand awareness masyarakat pada bidang ekonomi. Metode yang digunakan pada pengabdian kepada masyarakat ini berupa penyuluhan mengenai pemahaman HKI dan arti penting HKI bagi dunia usaha. Mitra pengabdian masyarakat adalah Desa Watugolong di Sidoarjo. Hasil Pengabdian Kepada Masyarakat yang diperoleh adalah adanya pemahaman dan keinginan objek PKM untuk mengurus dan mendaftarkan HKI dalam kepentingan usahanya. Inovasi menciptakan desain packaging yang eye appeal pada sosial media Instagram dan marketplace Shopee dapat memudahkan UMKM memasarkan produknya dan dapat meningkatkan ketertarikan konsumen sehingga pendapatan akan meningkat pesat.
The role of UMKM is very significant to the Indonesian economy, both in terms of the number of business units, employment, and contribution to gross domestic product (GDP). To develop a business, SMEs cannot be separated from how to brand products effectively. Watugolong Village was a village that has a low level of brand awareness related to the branding of gadung chips SMEs. This community service aims to increase public brand awareness in the economic field. The method used in this community service is in the form of counseling about the understanding of IP and the importance of HKI for the business world. The community service partner was Watugolong Village in Sidoarjo. The results of Community Service obtained were the understanding and desire of the community service object to manage and register IP in the interests of its business.
References
Achmad, Z.A. et al.(2020) 'Pemanfaatan Media Sosial dalam Pemasaran Produk UMKM di Kelurahan Sidokumpul, Kabupaten Gresik', Jurnal Ilmu Komunikasi, 10(1), pp. 17–31. Available at: https://doi.org/10.15642/jik.2020.10.1.17-31.
Pinandoyo, D.B, Masnar, A. and Supardianningsih, S. (2022) 'Food Packaging Rebranding Assistance for Vegetable Products of OkeFarm Neglasari Women Farmer Group', Engagement: Jurnal Pengabdian Kepada Masyarakat, 6(1), pp. 173–186. Available at: https://doi.org/10.29062/engagement.v6i1.986.
F.D, S.A., Muslimatun, S. and Damayanti G, M. (2019) 'Student-Led Community Service Activities in Indonesia International Institute for Life Sciences (I3l) for Building Collaborative Work And Social Awareness', Prosiding Konferensi Nasional Pengabdian Kepada Masyarakat dan Corporate Social Responsibility (PKM-CSR), 2, pp. 897–901. Available at: https://doi.org/10.37695/pkmcsr.v2i0.432.
Firdaus, M. et al.(2022) Ragam Kegiatan Pengabdian kepada Masyarakat, OSF Preprints. Available at: https://doi.org/10.31219/osf.io/fkhry.
Gadung Dua Bintang (2022) Laporan UD Gadung Dua Bintang Tahun 2022, UD Gadung Dua Bintang.
Kalil, K. and Aenurohman, E.A. (2020) 'Dampak Kreativitas dan Inovasi Produk Terhadap Kinerja UKM di Kota Semarang', Jurnal Penelitian Humaniora, 21(1), pp. 69–77. Available at: https://doi.org/10.23917/humaniora.v21i1.8581.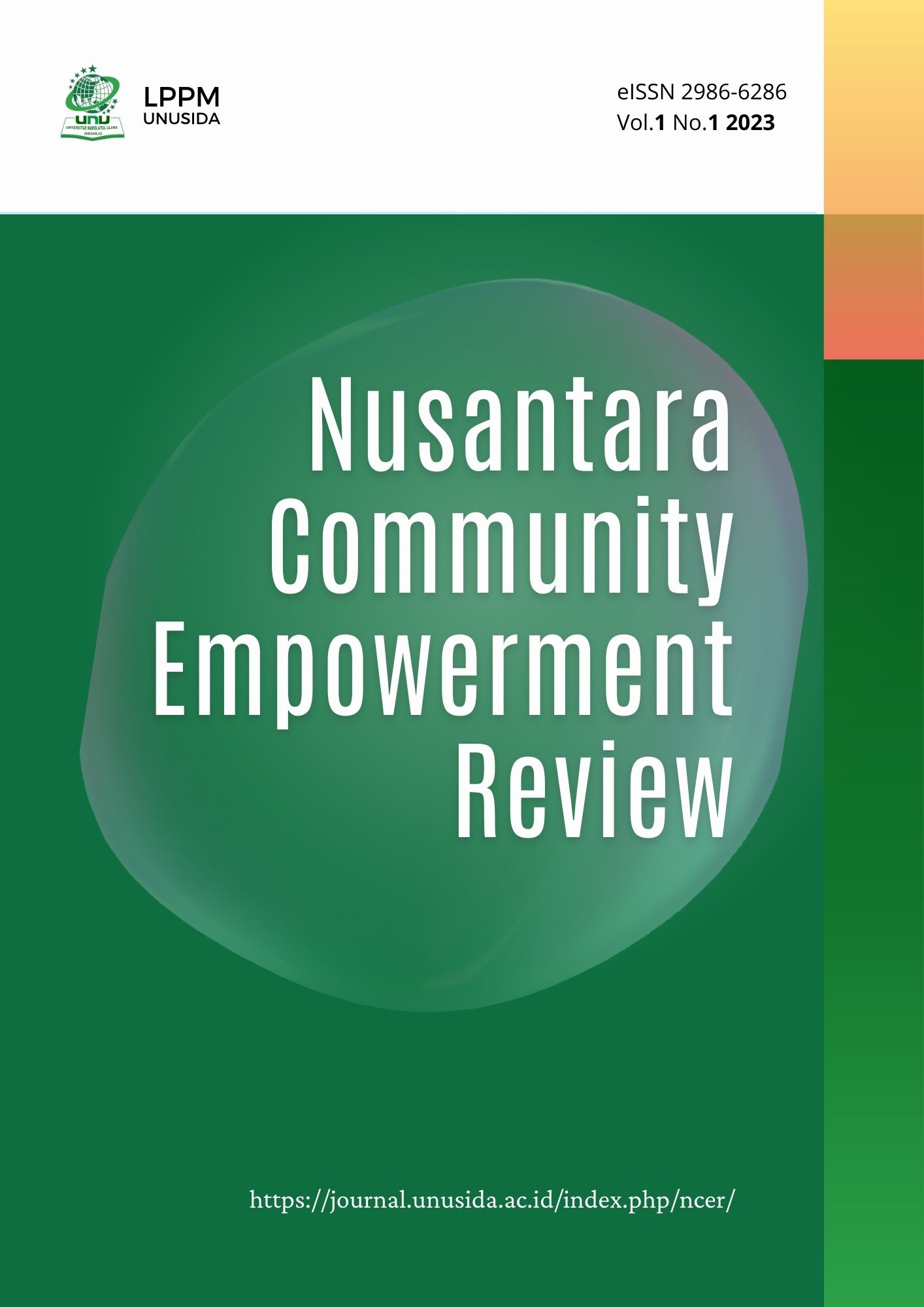 Downloads
How to Cite
Febrianti, D., Arif, S., Fitriyah, R. N., Purwanti, L., Sari, V. N. I., & Akhyar, Z. A. (2023). Rebranding UMKM Desa Watugolong: Meningkatkan Brand Awareness dari UMKM Keripik Gadung. Nusantara Community Empowerment Review, 1(1), 1–6. https://doi.org/10.55732/ncer.v1i1.735
License
Copyright (c) 2023 Nusantara Community Empowerment Review
This work is licensed under a Creative Commons Attribution-NonCommercial 4.0 International License.